We encourage and empower youngsters to learn about and engage with space. Cosmic Composition is for those original thinkers who can imagine about space, come up with ideas and put their imagination into words. This is an all India space theme online competition that will encourage you – the youngsters, to come up with an essay extraordinaire on your chosen space theme topic. The focus is on creation of a mixture of imagination and the scientific principles. The theme is space.
So, all eager minds, explore the details of the Cosmic Composition, start learning, imagining and writing, and submit your winning entry to the competition!
---
Win this all India space theme online essay competition, and be a Star on Earth, a small, very small stage in this vast and endless Cosmic arena.
---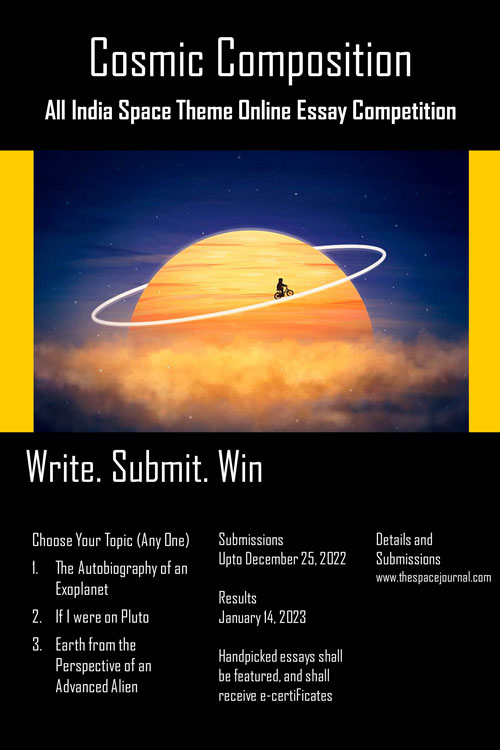 What is Cosmic Composition?
Cosmic Composition is an all India Space theme online Essay Competition.
School/college students across India in all age groups can participate in this competition. The topics of essay are based on space theme. Participation and submission of the essays is online through www.thespacejournal.com
What are the space theme topics for the competition?
You have to choose any one of these topics
The Autobiography of an Exoplanet
What if an exoplanet in some far-off interstellar space starts talking to you? What would he say? What divine message he may like to share?
Earth from the Perspective of an Advanced Alien
What would a technologically advanced alien on some far-off planet think of Earth and humanity? Would he look down upon us or appraise us? Would he like to visit us, or invite us to his planet? Why?
If I were on Pluto
You reach the dwarf planet Pluto. Write what happens next. What would happen to you? Should you survive, will you and would you like to come back to our Earth? Why and how?
---
What is the schedule of this competition?
The submissions would be accepted till 25th December 2022.
The winners shall be declared on 14th January 2023.
What kind of essays would win?
We would be looking for essays 'a cut above'.
Bold Imagination: Your essay should be creative and unique enough to undisputedly stand apart from all the essays we have received.
Relevance: Your essay should be explicitly relevant, imaginative, still scientifically correct.  The essay should be an indication of your knowledge of the topic.
Unique: The essay should be originally written by you.
How to take part in the competition?
Choose your essay topic. Read, understand and enrich your knowledge of your topic from all the resources available on the internet.
Neatly type your essay on an MS-Word file. No handwritten essays are accepted. Font – Aerial, size 12, spacing 1.5.
Minimum words: 600, Maximum words: 800
Illustrations, or graphs can be included.
At the end of your essay, please mention the references used such as books, websites, videos or discussions you have referred for writing your essay.
Essay should be in English language only.
Essay should be 100% unique and plagiarism free. Please paste your entire essay in https://www.grammarly.com/plagiarism-checker and ensure that it indicates a green tick "NO PLAGIARISM FOUND."
Essay should be checked for grammar. Please paste your essay in full in https://www.grammarly.com/grammar-checker and ensure that it indicates no grammar issues.
Essay should have a good readability score, meaning easy to understand by a university level student. Please paste your essay in full in https://www.grammarly.com/grammar-checker and ensure that it indicates no readability issues.
Upload online through the submission form on this page
After completion of payment, rest assured, your essay has been submitted successfully. Fingers crossed!
What is the entry fees for the competition?
The entry fees is INR 900 per submission.
The fees is payable online securely with Razorpay partner while submitting your essay. Your essay gets submitted only on the completion of the payment of fees.

How many essays can I submit?
You can submit multiple essays, but you need a upload as many times, and pay the fees that many times.
What if I would like to replace the essay that I have already submitted?
Once an essay has been submitted, we do not accept replacements, revokes or exchanges. If you wish to re-submit, it is certainly acceptable & common practice. These essays will be considered new submissions.
What are the certificates and prizes?
We will create dedicated posts to publish a few handpicked essays on the journal. These participants would be featured as honorable mentions with their publication.
All participants with successful submissions will also receive online participation certificates in PDF format in your email one month after your submission.
Can bulk essays be submitted?
No. We have no provision to accept essays in bulk offline, through email or other channel. All bulk essays need to be submitted one by one through the submission form.
What are the competition terms?
Every participant must read and understand these competition terms. Participants should check with their parent or guardian that they are happy with the competition based on these terms. Entry into the competition will be deemed as acceptance of all of these terms by the participants.
The competition is organised by The Space Journal @ www.thespacejournal.com
The Space Journal reserves the right to make any modification, addition, omission or alteration in the competition.
Entry Fee and Payments made by participants are Non Refundable under any circumstances
All essays received will be the property of The Space Journal. Those will not be returned to participants.
No responsibility can be accepted for essays not received for whatever reason.
All essays shall become the property of The Space Journal upon submission. The Space Journal reserves the right to feature/publish the essays online or offline, with proper credit to the participant.
I have a genuine doubt not answered here
If you have any genuine doubt associated with the competition for which you can't find the answer here, kindly Contact Us.

I am all good to go!
We look forward to your award winning essay.
Submit your essay on
Submit your Essay
---
"*" indicates required fields
---