Inspired from the word Cosmos, originally a Greek word, meaning "all of creation", Cosmic Colors is not just a competition. It's a platform for youngsters to express their knowledge, creativity and imagination particularly on the scale of the most beautiful stars, planets, black holes, universe and exploration of everything within,  through their much loved 'Art'  – the drawing and coloring.
With Cosmic Colors, we want you to paint these imaginations and make a way for our Cosmos to know itself its own beauty. So, get your crayons out, scratch your artistic creativity and make a beautiful drawing to submit your entry.
---
Win this all India space theme online drawing competition, and be a Star on Earth, a small, very small stage in this vast and endless Cosmic arena.
---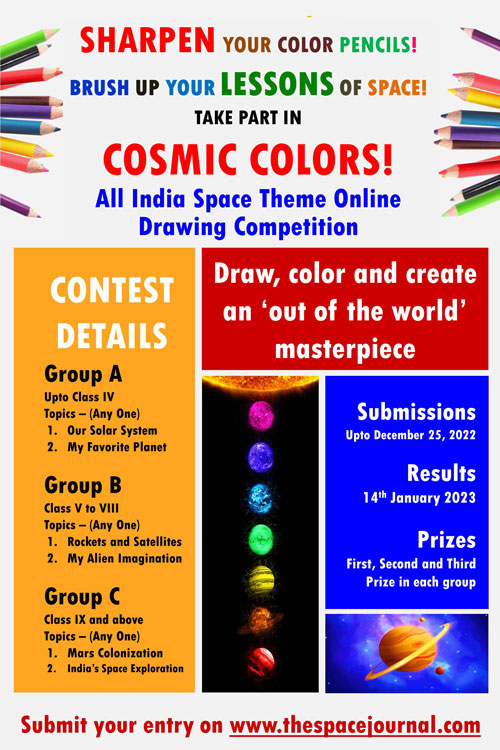 What is Cosmic Colors?
Cosmic Colors is an all India Space theme online Drawing Competition.
School/college students across India in all age groups can participate in this competition. The topics of drawing are based on the class/grade the participant is studying. The topics of the drawing are based on space theme. Participation and submission of the entries is online through www.thespacejournal.com
What is the age group and topics for the competition?
Group A: Upto Class IV
Topics – (Any One)
Our Solar System
My Favorite Planet
---
Group B: Class V to VIII
Topics – (Any One)
Rockets and Satellites
My Alien Imagination
---
Group C: Class IX and above
Topics – (Any One)
Mars Colonization
India's Space Exploration
What is the schedule of this competition?
The submissions would be accepted till 25th December 2022.
The winners shall be declared on 14th January 2023.
What kind of entries would win?
We would be looking for entries 'a cut above'.
Bold Imagination: Your drawing should be bold and unique enough to undisputedly stand apart from all the submissions we have received.
Relevance: Your drawing should be explicitly relevant and technically correct to the topic. Relative sizes, distances and details should be an indication of your knowledge of the topic.
Artistic Appeal: It's important your drawing also looks artistically great. Composition, center of interest, proper colors, subject placement, simplicity, viewpoint and balance would all matter.
How to take part in the competition?
Decide on your drawing topic. Make your drawing on a drawing sheet. Any size drawing sheet will really do.
Colors can be crayons, pastels, poster/acrylic colors and color pencils.
Crafting materials, stickers, cutout images, ensembles and sticky decorations are not allowed.
Do not write your name or any of your details on your drawing.
Click a clear photograph of your drawing. Do not digitally manipulate/color correct your photo.
Upload online through the submission form www.thespacejournal.com/cosmic-colors.
After completion of payment, rest assured, your entry has been submitted successfully. Fingers crossed!
What is the entry fees for the competition?
The entry fees is INR 900 per submission.
The fees is payable online securely with Razorpay partner while submitting your entry. Your entry gets submitted only on the completion of the payment of fees.

How many entries can I submit?
You can submit multiple entries, but you need a upload as many times, and pay the fees that many times.
What if I would like to replace the entry that I have already submitted?
Once an entry has been submitted, we do not accept replacements, revokes or exchanges. If you wish to re-enter, it is certainly acceptable & common practice. These entries will be considered new submissions.
What are the certificates and prizes?
Top three participants in each group will receive e-certificates and attractive prizes, and would be featured as winners.
All participants with successful submissions will receive online participation certificate in PDF format at your email one month after your submission.
Can bulk entries be submitted?
No. We have no provision to accept entries in bulk offline, through email or other channel. All bulk entries need to be submitted one by one through the submission form.
What are the competition terms?
Every participant must read and understand these competition terms. Participants should check with their parent or guardian that they are happy with the competition based on these terms. Entry into the competition will be deemed as acceptance of all of these terms by the participants.
The competition is organised by The Space Journal @ www.thespacejournal.com
The Space Journal reserves the right to make any modification, addition, omission or alteration in the competition.
Entry Fee and Payments made by participants are Non Refundable under any circumstances
All drawing entries received will be the property of The Space Journal. Entry will not be returned to participants.
No responsibility can be accepted for entries not received for whatever reason.
All entries shall become the property of The Space Journal upon submission. The Space Journal reserves the right to feature/publish the entries online or offline, with proper credit to the participant.
Entries that are found to be downloaded from internet would be disqualified.
I have a genuine doubt not answered here
If you have any genuine doubt associated with the competition for which you can't find the answer here, kindly Contact Us.

I am all good to go!
We look forward to your award winning entry.
Submit your entry on
Submit your Entry
---
---